Testimonials
See what some of our past participants have to say about our educational history workshops.
My favourite part of the WW2 day was the bomber mission and the quiz because it was really interesting to find out what it was like to be in a plane carrying out a succesful bombing mission and learning all about the people who done it.
Maybe if you made the plane 3D so you could climb inside and look out of the windows.
Testimonial January 2019
World War Two Workshop
A great day had by all. Children were very engaged and enthusiastic. All children were able to take part. The resources were amazing- they really helped the children to understand our topic on Vikings which brought it to life.
November 2018
Anglo Saxons... and Vikings too!
Anglo Saxons Workshop
Lots of interactions. Lovely to have visual resources for children to see and help build. Pitched appropriately to enable children to be fully engaged at all times.
5th December 2018
Great Fire of London Workshop
If you wish to have motivated and engaged children from a hands on workshop I could not recommend Chris highly enough. The resources really brought the afternoon to life.
Class teacher, 1/11/18
Stone Age Day
Stone Age Workshop
Fantastic day, keeping children engaged throughout by using practical and hands on activities.
Class teacher, Essex.
Roman Britain
Ancient Rome Workshop
The questioning helped the higher ability to explore potential problems, while extending the lowers too. A wonderful mixture of practical activities with problem solving, which really helped the children understand life in the Stone Age.
Class teacher, 30/10/18
Stone Age activities
Stone Age Workshop
Early Stone Age hominids.
Hunter-gatherer shelter.
Neolithic Skara Brae house.
Neolithic stone circle.
Stone Age history workshop activities
Stone Age Workshop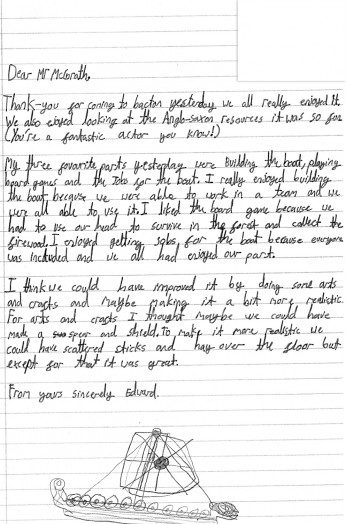 I liked the board game because we had to use our heads to survive in the forest and collect the firewood. I enjoyed getting jobs for the boat because everyone was included and we all enjoyed our part.
Edward, Bacton
Anglo Saxons Workshop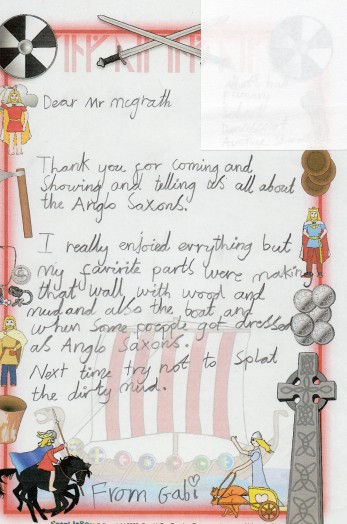 I really enjoyed everything but my favourite parts were making that wall with wood and mud and also the boat and when some people got dressed as Anglo Saxons.
Gabi, Stowmarket
Anglo Saxons Workshop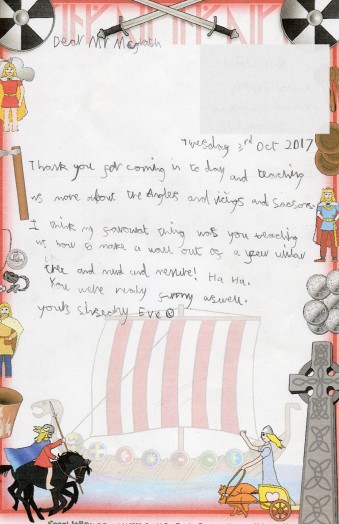 Thank you for coming in today and teaching us about the Angles and Vikings and Saxons. You were really funny as well.
Eve, Stowmarket
Anglo Saxons Workshop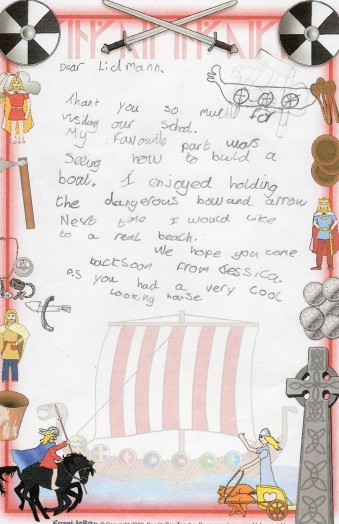 My favourite part was seeing how to build a boat. I enjoyed holding the dangerous bow and arrow.
Jessica, Suffolk
Anglo Saxons Workshop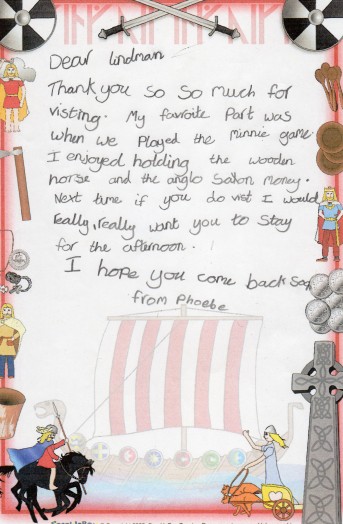 I enjoyed holding the wooden horse and the Anglo Saxon money. Next time if you do visit I would really, really like you to stay for the afternoon.
Phoebe, Suffolk
Anglo Saxons Workshop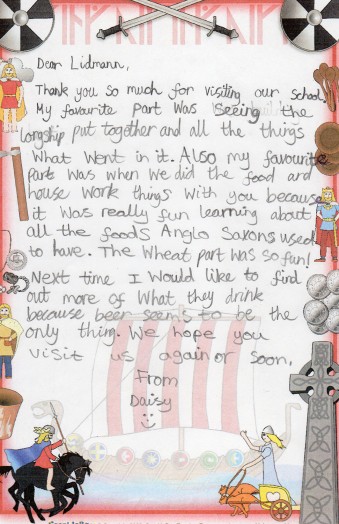 - my favourite part was when we did the food and housework things with you because it was really fun learning about all the foods Anglo Saxons used to have. The wheat part was so fun!
Daisy, Suffolk
Anglo Saxons Workshop
Hi Chris,
I felt very privileged to be in school that morning and to watch your session.
The children loved it and I was so surprised with how much they remembered afterwards - that's hands on learning for you!
We did discuss what they enjoyed ... during the session and although I haven't got any particular names this is what they came up with:
They enjoyed:
1. Helping with the props / building things
2. Dressing up
3. Pretending they were the people from the stone age / sitting in the shelter, in the house etc
4. Reading the information
5. Building Stonehenge
CP, Bacton, Suffolk
Stone Age Workshop
Dear Lidmann,
Thank you so much for visiting us today - I really felt like I had travelled back in time to the land of the Angles! Your boat building scene was excellent and you are very skilled at your work. The timings of words and actions and storytelling was just right. There was not a murmur in the hall- they were all spellbound, as I was too!
Mrs Moore, Suffolk
Anglo Saxons Workshop
...thank you so much for Tuesday. The learning has been amazing...
...the children were able to remember all of the events during the fire, and it has really stimulated their writing.
TY, class teacher, Suffolk
Great Fire of London Workshop